Brexit (the UKís vote to leave the European Union) took the markets by surprise, and markets donít like that. But the effect was short-lived, and US stock markets were soon hitting all-time highs again, and Britain will remain a member of the European Union for something like two years while the terms of its withdrawal are worked out. The big question is whether any more nations will attempt to leave the EU, but even if they do, the long-term effect on markets here should be small to non-existent.
Events in China are more likely to affect the economy here, and mixed messages were being received recently. Chinese exports were reported to have declined in twelve of the thirteen months up to July, at which point they were 4.4% below where they had been a year earlier. That was seen as indicative of a general global economic slowdown. Chinese imports were reported as being 12.5% lower than a year previous, although their gross domestic product was said to have increased in the second quarter, even while its national debt has been increasing.
On the domestic front, the big question is who is going to win the presidential election and what effect that result will have on the economy. We will reserve speculation on that front until the next newsletter, when the votes will have been counted.
Meanwhile, unemployment figures continue to drop, the Dow Jones, S&P, and Nasdaq indices have been hitting all-time highs, and (probably related) consumer confidence has been showing a marked increase. This confidence has been reaching building owners too, and the amount of construction work, both renovation and new-build, has been increasing. That increase in work-load tends to result in an increase in construction cost as well, and our Bid Index has been showing that movement for some time.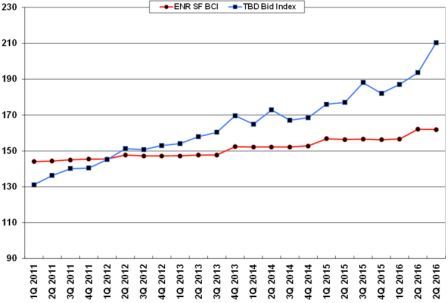 The prevailing view seems to be that the non-residential construction field will remain strong through the end of 2017 at least, barring unforeseen problems along the way. That appears to be confirmed by the Architectural Billings Index (ABI), which has been around or above 50 for some time, indicating a growth in workload for design teams. That growth should then turn into more onsite construction work about a year or so further down the line. The ABI has been trending downwards a bit, but at present that only indicates a slowing of the rate of growth, not a contraction. The strongest areas seem to be in the West and South, with the Midwest being the weakest zone.
Contractors in many areas already have as much work as they can handle, especially with the continuing shortage of craftsmen and other on-site staff. This has meant that contractors can pick and choose which projects to go for, reducing the number of bidders where projects appear in any way problematic. Such problems can include the size of a project, type of construction, access problems, etc., and historically it has been found that a reduction in the number of bidders for a project will result in a fairly steep increase in the bid price.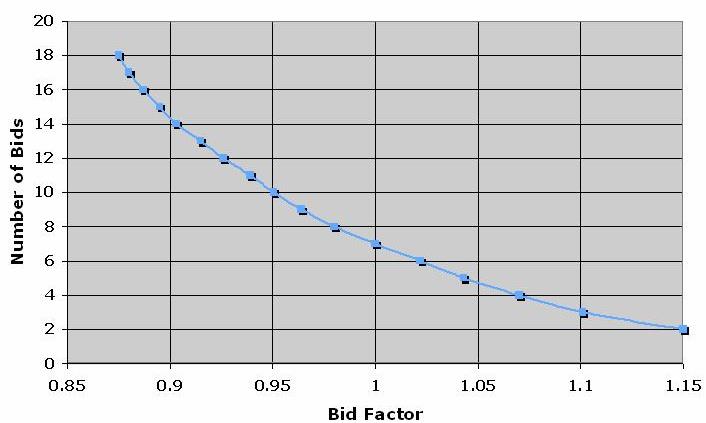 There are plenty of events that can affect the world economy. Oil prices continuing to slip and slide in both directions, terrorist attacks being an ever present threat, questions about Chinese and European economies, and Japan as well, a seeming reluctance for US consumers to purchase much more than essentials, and an unsettled political climate in the US are among the things that could end up derailing the boom times, but that doesnít look like happening in the immediate future.
With regard to US politics, both presidential candidates have indicated they will increase money for things like infrastructure projects. Government-funded construction is one area where growth has been lagging, so we might see that picking up again.
For now, the US remains a relative island of stability in an ocean of international turmoil.
Geoff Canham, Editor