Jobs and Education
Geoff Canham, Editor
Jobs has certainly been the big headline recently. But as influential as Steve Jobs has been, in this instance we are talking about jobs in connection with unemployment.
In October the unemployment rate dropped to 9% from 9.1% where it had been for a few months, but that still left 13.9 million unemployed, with 5.9 million classed as long-term unemployed (which is defined as having been looking for work for at least six months). Construction employment declined by 20,000 in October, largely offsetting an increase of 27,000 in September, but at least things are slowly moving in the right direction over all. In September 2011 the unemployment rate for the construction industry was at 13.5%, compared with 17.2% twelve months previously. That slight improvement in construction industry figures also reflects in our bid index.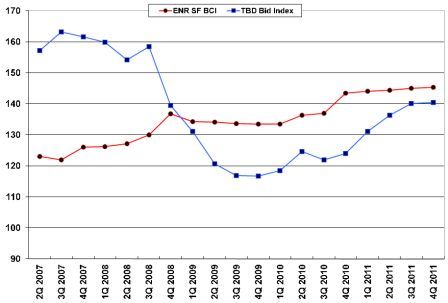 But getting back to national employment/unemployment, the JOLTS program (Job Opportunities and Labor Turnover Survey) of the Bureau of Labor Statistics lists 3.056 million unfilled non-farm job openings. If those unfilled positions could be filled by the unemployed, it would bring the unemployment rate down to almost 7%. So what is stopping that happening?
To some extent it could be that the jobs and the potential employees are simply in different locations, but generally potential employers state that they cannot find people with the required qualifications. It has been suggested by some that this lack of skilled labor results from societal pressure on students to go to a university in preference to attending a technical school. But whether it comes down to a lack of education or too much of the wrong education, it still comes down to education. We are also seeing many positions, such as meter readers, being made obsolete as technological advances render them unnecessary. That results in a need for retraining for the displaced staff, again coming back to the need for education.
Yet educational has been a sector that has suffered more than many during the recession. Each year we hear of teachers receiving pink slips as school districts are uncertain what funding they will get. Cutbacks and layoffs in education are not the same as in industry, where the layoffs result from a lack of need for the services. The same number of children will still be going to the schools looking for education even if the teaching staff has been reduced, so the result is larger class size, and less personal attention for students, which can easily result in a poor learning environment that puts the students off learning at a time when education is becoming even more essential than it had been. We are also seeing the cancellation of many sports and other non-core courses, and it is often these courses that help make school interesting for the students.
The changes that society has gone through as a result of technological innovation are not likely to abate any time soon. Based on a fairly limited study it is often stated that today people change jobs ten to fifteen times (with an average of 11 job changes) during their career. That might depend on your definition of what constitutes a 'job change', but whatever the true average is, as technology keeps developing it is expected to rise rather than fall. Again that is going to require more education for retraining, and the term life-long-learning is becoming common.
All this leads to the conclusion that we really need schools that have the buildings, staff and environment to make education interesting and exciting for the students, and something they will want to continue with. We are seeing some hopeful movement in that direction, as discussed in the other articles in this newsletter. We can just hope that the recovery from the Great Recession picks up pace and lets us move ahead with these goals fast enough to help the upcoming generation.