If the markets have left you feeling a bit queasy since the beginning of the year, it is understandable. It seemed as if the Dow insisted on moving at least 300 points in one direction or the other, and sometimes both on the same day. What is going on?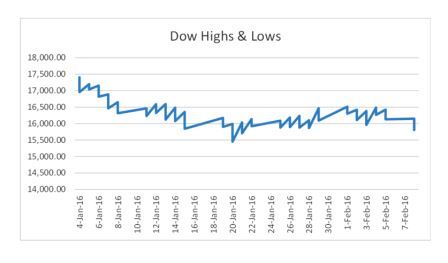 China has been mentioned a lot, and yes, their economy has been slowing down as the country transition to a more consumer-driven one, and people are realizing that the official figures from there might not always be as realistic as we would like. That downturn in the Chinese economy has been a major influence on commodities, because they are not using as much raw material now as they used to. The rate of growth in India, another big consumer, has also been dropping a bit.
The main commodity to affect the stock market has been oil, and the gyrations of the Dow and those of the price of a barrel of crude oil have been almost identical. If oil prices go up, so does the Dow, but since oil prices have generally been on a downward track, we find the stock markets are now (writing in mid-February) encroaching on bear market territory. We certainly no longer need to worry about when we will get a 'correction', because we have already past that 10% drop marker. Historically, low oil prices meant economic slowdown, and there is some of that worldwide, but this time we also have increased oil production (largely from shale) adding to the downward price spiral.
The US economy is actually doing well. Unemployment is now under 5% (which is normally considered to be full employment) and wages are finally seen to be rising. A report on CNN indicated that there are 5.6 million job opportunities available, but unfortunately, not necessarily the people with the skills to fill them. Also, big companies still have plenty of cash reserves.
One sector of the US market that has not been doing well recently is manufacturing, and that sector is technically in recession, having declined for the past four months (October through January). A main cause of that has been the strength of the dollar, which has made US goods more expensive for overseas buyers, but despite that slowing the sector is in good shape. The oil industry has been suffering badly, for obvious reasons, and the dollar's strength is another factor pushing oil prices down.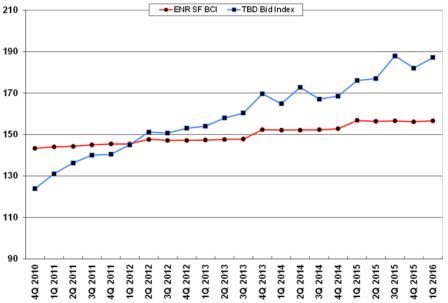 The constant upheavals in the stock market is not helping the general public have confidence in the future, so unfortunately they are doing what they were told, and saving for a rainy day instead of blowing their money on goods and services. Since a major portion of the US GDP depends on domestic consumption, we need an irresponsible population ;-)
The stock market had got ahead of itself and voices had been calling for a correction, which we now have. But the economy is a different animal, and it is still plodding along. The market's antics are not encouraging the economy, but they also are not doing it serious damage. What we need is a period of stability to allow confidence to be rebuilt, but events worldwide do not seem to be allowing that to happen in the immediate future.
So the rollercoaster is likely to rumble on for a while. At least the probability of more interest hikes in the near future has diminished, but we know the economy is strong enough for the Fed to consider that possibility.
Geoff Canham, Editor