Construction Management Specialists

111 Pine Street, Suite 1315
San Francisco, CA 94111
(415) 981-9430 (San Francisco office)

1020 B Street
San Rafael, CA 94901
(415) 981-9430 (North Bay office)

6518 Lonetree Blvd., Suite 164
Rocklin, CA 95765
(916) 742-1770 (Sacramento office)

4655 Cass Street, Suite 214
San Diego, CA 92109
(858) 886-7373 (San Diego office)

8538 173rd Avenue NE
Redmond, WA 98052
(206) 571-0128 (Seattle office)

2063 Grant Road
Los Altos, CA 94024
(650) 386-1728 (South Bay office)

WeWork: Pacific Design Center Ė Red Building
750 N San Vicente Blvd., Ste 800 West
Los Angeles, CA 90069
(424) 343-2652 (Los Angeles, CA office)

1a Zoe House, Church Road, Greystones
Wicklow, A63 WK40, Ireland
+353 86-600-1352 (Europe office)

www.TBDconsultants.com
When the Covid-19 pandemic struck there was a lot of wishful thinking about being able to get back to normal after sheltering-in-place for a few weeks, or months if things got bad. But summer sunshine didnít magically make the virus go away, and it has seemed to be a constant battle to keep infection numbers down and not overwhelm the healthcare industry. Sometimes it has seemed that every effort at reopening businesses has led to a rapid increase in infection and a sudden reversal of policy. What is and is not officially allowed seems to change daily, and yet overall business activity has got back to almost 80% (at time of writing, early September) of where it was before the pandemic started. That has been due largely to the stimulus packages, which have also pushed federal debt to a level approaching the nationís GDP. Of course, the GDP has been shrinking as the pandemic curtails activity, and Congress has been spending trillions of dollars to keep the economy moving.
A lot of business transactions have moved online, benefitting the likes of Amazon, while many other businesses are finding relatively safe ways to operate during the pandemic. Change may feel hard, but humans have got to where they are by being adaptable, and adaptability has been needed in volumes recently, and is going to continue to be a requirement for quite a while. Stores may be having to limit the number of customers allowed in at one time, but that has kept vital resources available. Outdoor eating has allowed restaurants to function, at least when the climate allows, beyond just curbside pickup of take-out meals. Making the most of a frustrating situation seems to be the goal until a vaccine is available, and it is getting us better prepared for recurrences of this virus and the potential for future ones. With the human population continuing to rise, it is pushing us more and more into the territory of other creatures, like the bats that are the likely original source of this novel coronavirus (SARS-CoV-2).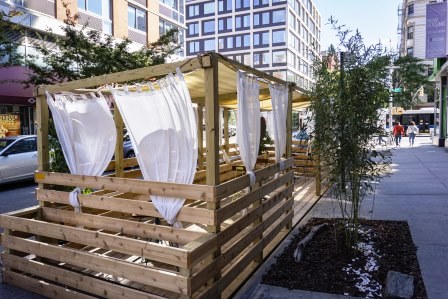 Currently, less than two percent of the US population has been infected by SARS-CoV-2, so it still has a lot of people it can mess around with. There are laboratories around the world working on developing a vaccine, but regardless of reports from Russia and China there still hasnít been a vaccine proven to be effective and safe. It would be remarkable if there were, so soon after the discovery of the virus, and a more realistic timeline for having a vaccine available in required quantities is probably mid-2021. Rushing a questionable vaccine out could cause more problems in the short- and long-term than it solves. Questions remain about how much protection a vaccine will give because there are a number of reports of people having been reinfected by the virus. The common cold can result from a different coronavirus and there has never been a vaccine for that and getting infected gives a few months protection, at best, against reinfection.
With these types of concerns, companies and building owners are having to consider how to provide adequate protection for workers when they return to the office and other premises. Allowing people to continue working from home is an obvious way of keeping staff safely distanced from one another, but that doesnít work for all people or all types of jobs. Consequently, we can expect to see a lot of retrofit/alteration work keeping the construction industry busy as buildings are adapted to provide a healthier environment for staff. We are likely to see more use of demountable partitions and other forms of construction to make buildings more flexible in meeting changing needs.
Online education is proving effective and cheaper for higher education, so it is likely that we will see much of that continuing after the pandemic. That should enable higher education to reach more people, which could well be needed because the jobs that require such education are the ones that tend to be less liable to be replaced by technology. That will probably mean that a lot of university buildings will be repurposed, giving more construction work.
Once the Covid-19 situation has run its course, or settled down to a background issue, it will be time (some will say beyond time) to face the issues of climate change. Some of the solutions we will have adopted coming out of the pandemic should be helping in that regard, but really not doing much more than scratching the surface. At least the Covid-19 situation will have given us a feel for change, because it looks like change is something that we will be living with for a long time, like it or not.
Geoff Canham, Editor, TBD San Francisco