Construction Management Specialists

111 Pine Street, Suite 1315
San Francisco, CA 94111
(415) 981-9430 (San Francisco office)

1020 B Street
San Rafael, CA 94901
(415) 981-9430 (North Bay office)

6518 Lonetree Blvd., Suite 164
Rocklin, CA 95765
(916) 742-1770 (Sacramento office)

4655 Cass Street, Suite 214
San Diego, CA 92109
(858) 886-7373 (San Diego office)

8538 173rd Avenue NE
Redmond, WA 98052
(206) 571-0128 (Seattle office)

2063 Grant Road
Los Altos, CA 94024
(650) 386-1728 (South Bay office)

WeWork: Pacific Design Center – Red Building
750 N San Vicente Blvd., Ste 800 West
Los Angeles, CA 90069
(424) 343-2652 (Los Angeles, CA office)

1a Zoe House, Church Road, Greystones
Wicklow, A63 WK40, Ireland
+353 86-600-1352 (Europe office)

www.TBDconsultants.com
One study, before the coronavirus struck, showed that about 4.5% of office workers telecommuted daily, but suddenly everyone was having to do that. Some enjoyed the opportunity, but many longed to get back to the office. A survey by Gensler in May this year showed that only 12% of workers wanted to work from home full-time. By the time it is really safe to get back to the 'old normal', you have to wonder how many more will have gotten used to the convenience of not having to commute, but we can be certain it won't be all. Many say they miss the interaction with their coworkers, and some just miss the structure of separating work from home, although with emails chasing us everywhere, that separation has become increasingly difficult anyway. And how many of those who said they missed the interaction would have sent a question by email to a colleague two cubicles away, rather that walk around to chat with them?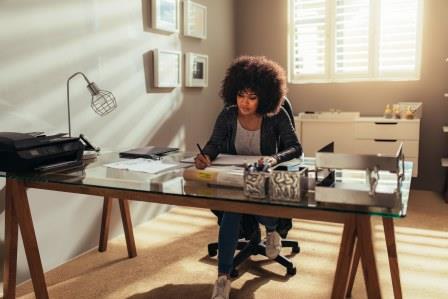 Anyway, remote working is going to be the norm for a lot of us for a while, and even when (let's not admit that it could be 'if') we have an effective vaccine and we could cram people back into the workspace right alongside each other, we will need to ask if we want to. ENR commented in their International Market Analysis that major design firms were seeing long-term benefits from home working. This writer was taking part in an exercise class via Zoom and one of the participants had had the misfortune of getting trapped abroad by the travel bans. Consequently, she had to join in from a house overlooking the beach in Spain and she showed us the workspace she had set up for her office work, looking out over the ocean. You have to sympathize with these people – or maybe not. If staff can work from home it means that employers can engage the most qualified staff wherever in the world they may be, staff don't have to live in expensive areas where the company may be based, and long commute times can be avoided.
Talking about the elimination of the commute time, that has led to reports of people working longer hours at home than they did in the office. Whether that means that more is being done, or work is getting stretched to fill the saved commute time is unclear, but the lack of that commute means that many people will be missing on the only regular exercise they got during the week. Yes, walking from your parking space to the office does count as exercise, and even pushing the accelerator and brake pedals and turning the steering wheel probably uses more muscles than sitting in front of your computer does. Maintaining a healthy immune system is good practice at any time and in the middle of a pandemic it could be said to be vital, and exercise is one of the most important ways to do that. Getting a good night's sleep is also important for your immune system, and if the alarm clock has been cutting too much off the recommended 7 to 8 hours, then you could use some of that saved commute time to sleep in a bit.
Personal contact also helps boost the immune system, but now it seems that this is going to be largely via Zoom and its ilk, for a while. Software has been enabling remote conferencing and video chat for many years, but it has become vital in this era of shelter-in-place. There are many options available, and improvements have been forthcoming as heavy usage has highlighted problems and security issues. The actual business software also needs to facilitate remote collaboration more effectively, and these issues are being addressed, or at least they are being raised by users.
You don't need to go to the gym to get sufficient exercise, and right now you probably wouldn't be allowed to do that anyway. The WHO recommends getting out for a fast walk at least 150 minutes a week, which is only 30 minutes a day for a 5-day work week. Plus, getting up to stretch or move about a bit, at least once an hour will offset some of the deleterious effects of constantly sitting. Maybe go and get a glass of water or cup of coffee, and that will ensure that you move again in an hour or so, to go to the restroom. Or better yet, take the dog for a walk to a coffee at a local coffee shop. So, you can schedule a half hour walk for when you would normally be commuting, then on the hour, every hour, get up, stretch and move about a bit. Having a schedule helps build it into your day – turn that little bit of exercise into a habit, and if you can add more exercise later, all the better. Walking has also been shown to be especially good if you are involved in creative activities, boosting creativity by 60% according to one Stanford study. You can even exercise while sitting – just Google 'exercise while sitting' and try out some of the suggestions.
Having a work schedule or routine and a defined 'office' space is also helpful, especially if you need to get motivated. You, hopefully, were in the habit of getting home from the office and relaxing, so now that you're home all the time your body might think it shouldn't be working. The Gensler survey, mentioned earlier, rather surprisingly said that it was the younger generations that were more eager to get back to the office, which may be related to issues such as trying to work from the same computer that they are used to playing video games on. Actually, if you have to get a new computer to work on at home, a gaming machine could be a good choice because they are designed for speed and heavy processing; but you might want to describe it some other way when submitting your expenses claim. Even just having a designated table for your workspace can help move you from a "home and relaxing" frame of mind to a "let's get working" one. That doesn't mean you can't add variety by taking your laptop to work from the sofa or the outdoor seating at your local coffee shop occasionally. How you fit in the teacher's-assistant role for your kids, we'll leave up to you.